What May 2017 Represents To Me
By Scott Charlton
Introduction
In a few short days, I'm taking a fortnight out of my business to pursue a dream that's been playing on my mind for the past two years. For reasons I'll explain, this mini adventure is very important to me personally. I think it's also highly relevant to the practitioners I work with.
Background
Those who have attended The Breakaway, the two day business planning workshop I facilitate, will know my "Red Bike Story." Essentially, 2015 saw me fulfil a very long held ambition to go cycling in Italy.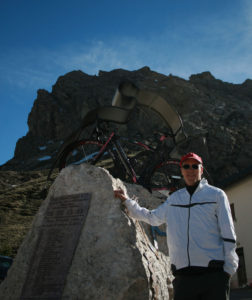 Less well known is that during that trip, another lofty goal was set.
Standing at the summit of the renowned Passo Pordoi, surveying the stunning Dolomite landscape, I resolved to return, only next time on a bicycle.
Having just driven to the top via a tortuous 33 hairpin bends, I was very aware that this was not a small undertaking.
And yet standing next to a monument to commemorate the redoubtable cyclists who have won stages of the Giro d'Italia at this breathtaking place, it felt that destiny was calling.
Whilst 2015 featured a cycling highpoint, it also contained quite a low point. In August that year, a front wheel puncture caused me to crash my bike when out training one morning. I broke my leg just below the hip, leading to 10 days in hospital. Not good! So much so that I seriously contemplated giving cycling away. Not for the first time I was confronted with the reality of my chosen recreation – the consequences of coming off a bicycle can be extremely serious.
Early days of the recovery were slow and painful. Ironically, a stationary bike was part of my rehabilitation. I worked hard at my recuperation, doing all of the prescribed exercises. The physio was amazed at my progress. I decided to return to cycling and dared to contemplate my dream once more.
My Road to Milan
In late 2015 I got back on my bike, with zero fitness and little confidence. Every bump was still painful for my leg which was still repairing. Every bend in the road was negotiated with apprehension.
In June 2016 I had a second operation, this time to remove the metal rods which had been inserted in my leg during surgery post the accident. Whilst these rods had been intended to remain in my leg they were proving troublesome. The operation was significant and cancelled out much of my hard won advancement.
Undeterred, I committed to Italy shortly thereafter to achieve my dream in May 2017. Coinciding with the 100th edition of the Giro, it was quite a goal to aim for.
In the Breakaway workshops I encourage professional practitioners to set a "BHAG" for their business i.e. a Big, Hairy, Audacious Goal that will require them to lift their performance dramatically to achieve. Cycling to the top of Passo Pordoi became my personal BHAG.
November saw me in sufficient physical shape to commence preparation. A torturous ride in January at the Tour Down Under left no doubt that there was much more to be done.
Fast forward three months and I am most likely the fittest I have been for decades. This has been achieved on Sunday morning rides up the biggest hills that Brisbane has to offer, complemented by riding to work when not interstate for business. On non-cycling mornings, I've been up at 4:30 for a short, sharp gym session, before hitting the office at 7:00am. Work effectiveness has been great, notwithstanding the physical demands I have asked of my body. In every way I feel productive and purposeful.
Feeding Your Soul to Prosper in Business
There's a reason why I ask Breakaway attendees to complete a "Personal Journey Questionnaire" beforehand. So too, there's purpose behind participants taking time during the Workshop to work on their personal "Bucket List". That's because to end up with the right business plan, their personal goals need to be accommodated. In my experience, anyone can come up with a business plan that sounds impressive. The plans that end up getting implemented however are the plans that enable the business leaders and owners to fulfil their personal destinies.
Italy Awaits
Whilst inwardly confident, I really don't know how I'll go in my cycling quest. The organised bike tour I am part of will pose challenges far greater than I've ever encountered. At age 56, I'm apprehensive and excited in equal measure.
One thing I've learned though is that if you keep turning the pedals around for long enough, even the most intimidating hills will eventually yield, with a vista and sense of satisfaction to savour at the top. It's not a bad analogy for life in general!
What I also know is that upon returning from Italy, there are some planning sessions booked for my own business. It's here where we will fill in the "How" to achieve some captivating goals that are formulating for the Company.
I also know that I'll be ready to go for this, having taken time during my adventure to once again reflect upon my life, my purpose and quite likely, my next adventure.
Exciting times ahead.