Scott Charlton is an accomplished author having written and published three business books, numerous strategy papers, guides and dozens of articles for a broad cross section of industry magazines and social media.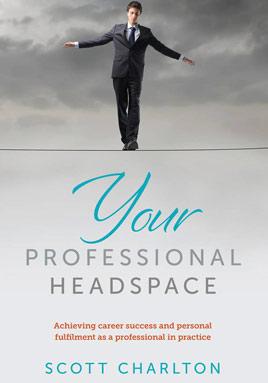 Your Professional Headspace: Achieving career success and personal fulfilment as a professional in practice
©2011 – Scott Charlton
Your Professional Headspace offers powerful observations and recommendations on how you can change your life. You will receive new insights about familiar situations such as getting in and out of partnerships, purchasing business premises, and being thrust into leadership roles. You will also find valuable guidance on areas which frequently receive scant attention – building your professional network, developing your personal brand and enjoying superior physical fitness. Filled with real life examples, checklists and tips, Your Professional Headspace is a practical guide to achieving a more fulfilling and financially rewarding life as a professional in practice.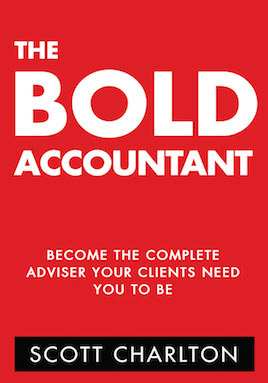 The Bold Accountant: Become the complete adviser your clients need you to be
©2017 – Scott Charlton
This is a helpful guide for accountants who aspire to provide more than just tax-related services to their clients. The author, Scott Charlton, has created a fascinating glimpse into your future accounting firm, based upon insights gathered from hundreds of accounting practices:
Why being reactive and focused on compliance services short-changes your clients
Systems by which you can proactively help clients to achieve financial well being
How financial planning can be the catalyst to providing more accounting services
A framework to knock the socks off a new client within 100 days of your appointment
Powerful suggestions about evolving into a multidisciplinary firm
Answers to the 21 most frequently asked questions regarding how to develop an effective financial services solution for your firm.
Filled with practical suggestions, case studies and action items, The Bold Accountant provides a tremendously helpful road map by which you can create an extraordinary accounting firm.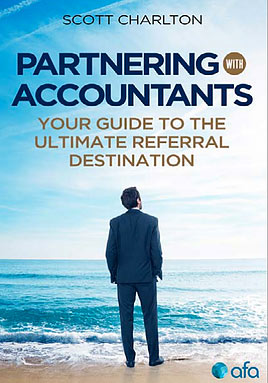 Partnering with Accountants: Your guide to the ultimate referral destination
©2014 – Scott Charlton (Endorsed by the Association of Financial Advisers))
Focussed squarely on lead generation for financial advisers and others wanting to work with accountants, Scott's third book includes dozens of compelling insights based upon Scott Charlton's 30 plus years of experience. Scott's insights include: accountants' concerns and how to secure a first meeting with them; whether to share your revenue with accountants; the pitfalls of being employed by an accountant, together with what to look for if buying an accounting firm. Scott also provides his keys to success for a multi-divisional professional practice; along with answers to the 30 most frequently asked questions about referral relationships with accountants. Filled with checklists, tips and actual case studies, Partnering with Accountants uses an enjoyable travel analogy to assist you through the challenges associated with accounting collaborations.
Strategy Papers available for Download